Press releases and other announcements from the 360IT Partners
Virginia Beach IT company preps for future growth with latest acquisition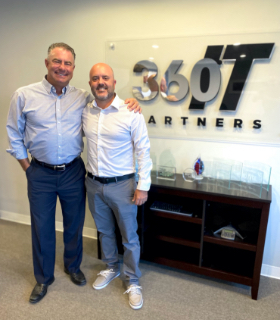 360IT Partners, led by founder and CEO Martin Joseph, left, recently acquired fellow Virginia Beach company Sivils IT Consulting, led by Allan Sivils. (Courtesy photo / HANDOUT)
A Virginia Beach information technology company has scooped up a smaller local firm in what its leader hopes is the beginning of a growth spurt.
360IT Partners recently acquired fellow Virginia Beach business Sivils IT Consulting, company leaders announced on July 27. Martin Joseph, 360IT Partners founder and CEO, said he was impressed by the smaller company's talented team and list of clients.
"We felt as if we could take that and, with additional offerings, could make one and one equal three," Joseph said.
Sivils is a five-person IT management consulting firm led by owner and founder Allan Sivils, who will become 360IT's new chief information officer. All five team members were retained as part of the acquisition, Joseph said. In addition to consulting, the firm handles cloud solutions and disaster recovery operations for its clients, according to its website.
In a news release, Sivils said 360IT Partners was a leader in the "IT as a service" business model.
"We feel strongly that our clients will immediately experience the benefits of our expanded capabilities as one company," Sivils added.
Joseph said Sivils approached him first about becoming part of a larger IT company. They continued to talk about merging and eventually closed the deal June 30. Joseph declined to disclose the financial terms of the acquisition.
Joseph hopes the Sivils acquisition will be just the first in a series of short-term growth moves for 360IT Partners. The firm recently employed the services of Revenue Rocket, a search agency who will help the business look for other smaller companies around the country looking into selling to a larger firm.
"I feel like we've got a lot of great momentum moving forward," Joseph said.
Joseph said his long-term goal is to be an IT company for not just Hampton Roads but larger clients across the Mid-Atlantic region. Since 1995, the company has serviced small and medium-sized companies in manufacturing, distribution, law, finance, insurance, health care, shipbuilding and ship repair, among other industries. 360IT Partners now has 55 total employees.