Press releases and other announcements from the 360IT Partners
360IT PARTNERS Named to the 2017 List of Best Places to Work in Virginia
Virginia Beach, VA, February 8, 2017 – 360IT PARTNERS was named to Virginia Business Magazine's "Best Places to Work in Virginia" list. The company was honored on February 2 at an awards celebration at the Williamsburg Lodge in Williamsburg, Virginia.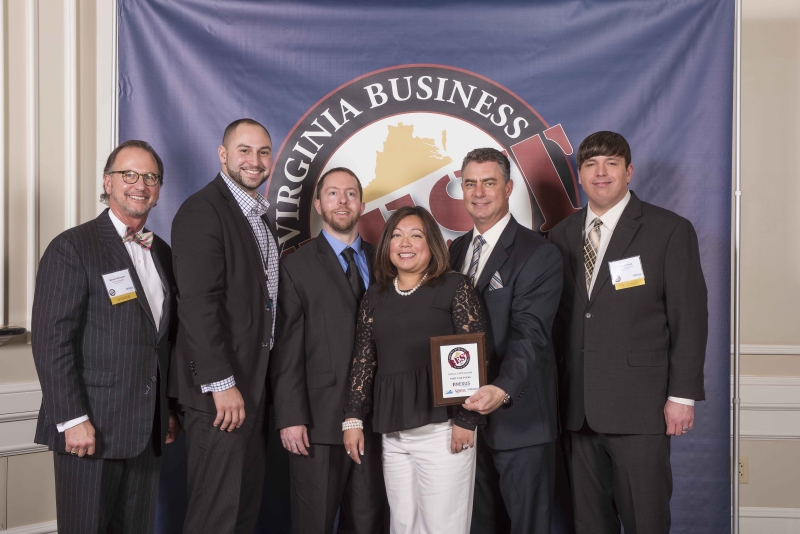 The company name says it all at 360IT Partners. The business doesn't merely provide IT services, it collaborates with its clients in order to deliver the exact system and support assistance needed to improve productivity and profitability.
The 360 degree symbol in the company logo signifies a well-rounded approach to network processing. 360IT specializes in network security, business continuity planning, remote backup and disaster recovery, cloud services, hosted solutions and Voice Over IP throughout Hampton Roads.
Within the company, a peer appreciation initiative fosters positive relationships among co-workers. With the online Bonus.ly peer recognition program, staff receives an allowance with which to surprise colleagues who positively affect their workday. Notes of thanks and congratulations are recorded on the company's private internal newsfeed.
This care and concern extends to the community. In an effort to combat prostate cancer, the organization participates in No Shave November, where participants refuse to cut their hair (which many cancer patients lost) and donate the money typically spent on shaving. Other charities supported include the UP Center, the SPCA, food banks and ForKids.
Joseph demonstrated his commitment to connection by offering partnership to two employees: chief operating officer Aaron Frketich and chief financial officer Jasmine Rebultan.
Frketich has been with the firm 16 years, having previously served as network engineer and vice president. He appreciates the company's work culture and teamwork.
"If ever a question arises, I know someone under this roof has the answer," he said.
Rebultan was offered a partnership in 2007. Watching the business grow from four people to nearly 50 has been very rewarding, she said.
The decision to extend partnership to Frketich and Rebultan was an easy one, Joseph said. "They are valuable to the company. They both have a vested interest in its success and have remained engaged," he said.
Partner and chief technology officer Justin Carter completes the 360IT leadership team. His company, Teklogic Inc., merged with 360IT in 2015.
Whether in-house, in the community or in the workforce, 360IT Partners values collaboration.
For more information on the Best Places to Work in Virginia program, visit
PilotOnline.com
360IT PARTNERS, serving Hampton Roads, Virginia and Chicago, Illinois, provides flat fee IT support management and network maintenance to small and medium businesses. They service a wide variety of vertical markets including manufacturing, distribution, legal, finance, insurance, health care, and ship building and repair. 360IT has been awarded the Hampton Roads Chamber of Commerce Small Business of the Year and named to the Inc. 5000, Fantastic 50 and Roaring 20 lists, naming the fastest growing companies. They are a Microsoft Registered Partner and their systems engineers are Microsoft Certified. To learn more about 360IT, a Better Business Bureau accredited business and a member of the Hampton Roads Chamber of Commerce, visit www.360ITPARTNERS.com.