Press releases and other announcements from the 360IT Partners
FOR IMMEDIATE RELEASE Sivils IT Consulting Merges with 360 IT PARTNERS
Virginia Beach, Virginia, July 28, 2020 — Sivils IT Consulting, which focuses on providing managed IT services and consulting  in Norfolk, merged with 360IT PARTNERS in Virginia Beach. 
Sivils IT Consulting owner and founder, Allan Sivils, is the new Chief Information Officer at 360IT PARTNERS. 
All members of the Sivils IT Consulting team transitioned to 360IT PARTNERS. 
This merger expands their collective team to over 50 help desk, technical development, engineering, and consulting team members.

"360IT PARTNERS is the local leader in the 'IT Department as a Service' model. We feel strongly that our clients will immediately experience the benefits of our expanded capabilities as one company," said Sivils.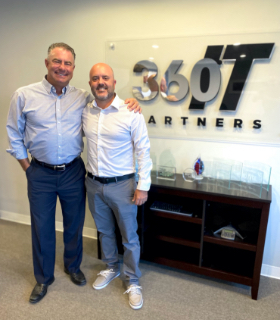 Martin Joseph, founder and CEO of 360IT PARTNERS, is confident that the culture fit is both internal and external. "The client-centered culture similarities at both companies made our union an obvious fit. We look forward to introducing the Sivils clients to our 360IT family," he said. 
This is the 3rd merger for 360IT PARTNERS. 
Joseph said that there will be more mergers to come in 2021 and beyond. "We have our sights set on continuing to enhance our bench strength and capabilities by bringing like-minded firms under the 360IT brand." 
360IT PARTNERS, serving Hampton Roads, Virginia, provides IT Department as a Service for small and medium businesses. They service a wide variety of vertical markets, including manufacturing, distribution, legal, finance, insurance, health care, and shipbuilding and repair. 360IT has been awarded the Hampton Roads Chamber of Commerce Small Business of the Year and named to the Inc. 5000, the Fantastic 50, and Roaring 20 lists, naming the fastest growing companies. They are a Microsoft Registered Partner, and their systems engineers are Microsoft Certified. To learn more about 360IT, a Better Business Bureau accredited business and a member of the Hampton Roads Chamber of Commerce, visit www.360ITPARTNERS.com