Press releases and other announcements from the 360IT Partners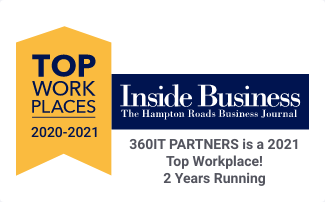 360IT Partners Named to Top Work Places 2021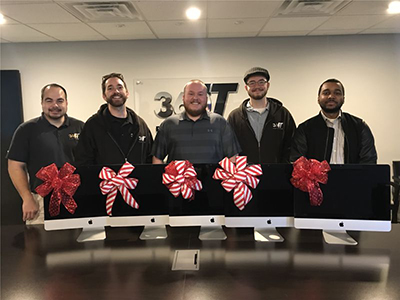 360IT Partners started a program called "Computers for Christmas" that provides new or refurbished computers with up-to-date software to under-resourced individuals so they can live the "tech life" too. (Courtesy photo)
"Framily," a combination of friends and family, is the word that Luke Barton, business development director at 360IT Partners, uses to describe the culture of the Virginia Beach-based company. He said that culture is what sets it apart from its competitors and what makes it a top workplace.
"Our company culture is the old adage that you are only as good as the weakest link. Everything from policy, culture flows from the top down. The health of our culture is most directly impacted by the heart and hearts of our leadership," he said.
"There is a genuine desire for everyone who is a part of this team to succeed, both personally and professionally," Barton said. "I think that's what sets us apart, having a genuine intention behind building elements into our culture that will sustain that good culture."
The company has a wide-ranging client base of small to midsized businesses. In addition to having a big footprint in the maritime and shipbuilding arena, it serves airports, nonprofits, law and insurance firms, churches and health care businesses.
Barton said employees enjoy a generous benefits package and competitive compensation as well as other perks like flexible schedules and a management team that takes frequent pulse checks by soliciting feedback and then acting on it.
"That's something that I've seen here that is unique. I think everybody sees suggestion boxes and most people probably think 'black hole'," he said. "What's really cool to see is when things go into the proverbial box, leadership will discuss it and then come back with either an approval or some kind of a compromise. Every legitimate concern or problem that is brought to leadership's attention gets a genuine response."
He said one of the ways 360IT Partners attracts top talent is by having a client base that is a good cultural fit.
"At the end of the day, that's who they have to interface with every day — each other and the clients," he said. "Through the right client culture, the right internal culture, compensation and benefits, those are the four themes that help us attract the right folks."
Barton said the company has a tiered system of employment based on skills and experience and that continuing training and shadowing programs are offered so that employees can earn credentials to move to the next level.
"There is unlimited growth potential with training and certifications available to those who want to excel in their careers and you can go at whatever pace you want to go," he said. For example, he added, an intern rose to a senior position in two years.
Barton said the company remained strong through the changes brought about by the COVID-19 pandemic and that management placed a strong emphasis on the physical and mental health of its employees.
"Our CFO made sure everyone was aware of their insurance benefits and that mental health counseling was provided if needed. In team calls we discussed, though it sounds simple, proper nutrition and rest and if anybody wanted one-on-one coaching they would get it," he said.
"It's not looking at people as units that produce metrics, but looking at people as people and understanding that if you make the person healthy and whole, they are going to be able to bring their best to the table at work and the best to the table at home."
About the company

For our team, working in information technology is more than a career choice. We all live the "tech-life" — meaning that we enthusiastically embrace how technology can enhance how we experience life. From efficiency to productivity to fun, we believe that technology can make our world a better place. For our clients who love using it too but just "want it to work," that's where we shine. Our team doesn't use "tech talk" with our clients but we are able to talk to them about their IT infrastructure and software in a nontechnical way that helps them understand what needs to be done so that they can get back to their work as soon as possible.
Address: 5269 Cleveland St., Suite 201, Virginia Beach
Phone: 757-499-6761
Website: 360itpartners.com
Top executives: Martin Joseph, CEO; Aaron Frketich, COO; Jasmin Rebultan, chief financial and human resources officer; Justin Carter, chief technology officer
Employees: 55
Benefits include: Medical and dental insurance, life and disability coverage, vision insurance, supplemental insurance and legal coverage, 401(k) plan with matching. Employees can also donate their paid time off to other workers who have maxed out their own time off.
Fun factor: Annual family fun day at Dave & Buster's. Employees and their family members get an all-day pass to the sports bar and arcade and also get to participate in a ping pong tournament. Company-sponsored happy hours, annual summer picnic and holiday party.
Community service: We believe that "many hands make light work" and that's why we support local philanthropic and civic organizations, as well as causes that our team is passionate about. For several years, we have sponsored and participated in The Up Center's Step Up Challenge in which the 360IT team climbed the tallest building in Virginia at the Westin at Town Center. We are also a repeat sponsor of the Southside Boys & Girls Clubs' Flounder Fishing Tournament and also enter two boats into the competition. For the past six years, 360IT employees have raised awareness for prostate cancer during No-Shave November by not shaving. We also make a company donation to the Prostate Cancer Foundation and allow all employees to raise funds or add to our donation.