Press releases and other announcements from the 360IT Partners
360IT PARTNERS Named One of the Top 200 Managed Services Providers in the World
Virginia Beach, VA, July 17, 2017 – For the third time, 360IT PARTNERS was named to the MSPmentor 501 list. They ranked number 198 out of 501 Managed Service Providers (MSPs) of Information Technology services in the world. This list recognizes top MSPs based on a range of metrics including annual managed services revenue growth, revenue per employee, managed services offered and number of customer devices managed.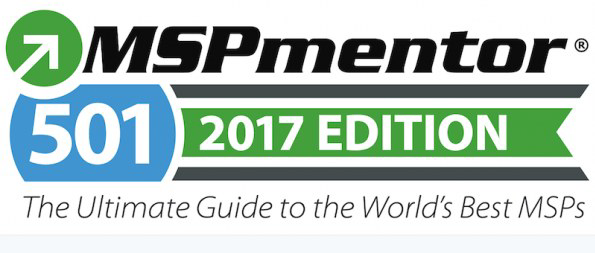 "Our company's growth and increased rankings on this managed services provider list is largely due to the increased need of our customers – protecting their networks and devices from cyber security breaches is a top priority for them," said Martin Joseph, president. "Our clients value having their networks up, operational, and their businesses earning revenue. That is our number one charge as a company."
"On behalf of MSPmentor, I would like to congratulate 360IT PARTNERS for its recognition as an MSP 501 honoree," said Aldrin Brown, Editor in Chief, MSPmentor. "The managed service provider market is evolving at a rapid pace and the companies showcased on the 2017 MSP 501 list represent the most agile, flexible and innovative organizations in the industry."
The MSPmentor 501 report is based on data from MSPmentor's global online survey conducted between February 16, 2017 and May 15, 2017 along with certified revenue verification. Managed Service Providers on this year's global 501 list had a combined $14.48 billion in annual recurring revenue.
MSPmentor.net, a digital property of Penton Technology, is the ultimate guide to managed services and the leading global destination for managed service providers.
360IT PARTNERS, serving Hampton Roads, Virginia and Chicago, Illinois, provides flat fee IT support management and network maintenance to small and medium businesses. They service a wide variety of vertical markets including manufacturing, distribution, legal, finance, insurance, health care, and ship building and repair. 360IT has been awarded the Hampton Roads Chamber of Commerce Small Business of the Year and named to the Inc. 5000 and the Fantastic 50 lists, naming the fastest growing companies. They are a Microsoft Registered Partner and their systems engineers are Microsoft Certified. To learn more about 360IT, a Better Business Bureau accredited business and a member of the Hampton Roads Chamber of Commerce, visit www.360ITPARTNERS.com.