Press releases and other announcements from the 360IT Partners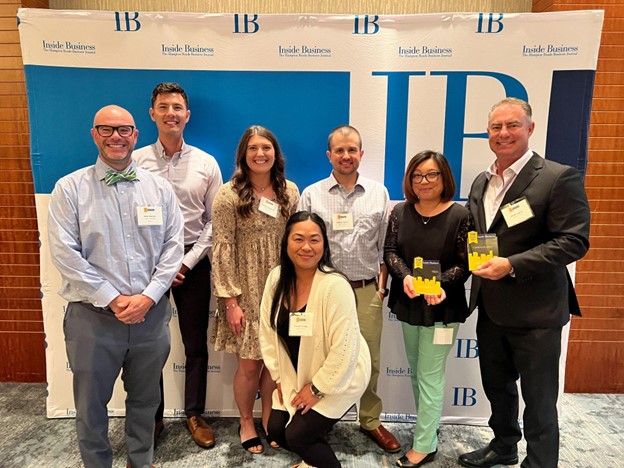 360IT PARTNERS Named a Top Workplaces 2023 Winner
Top Workplaces 2023 Awards Ceremony at the Westin Virginia Beach
(L to R) Brian Reeves, Technical Business Advisor; Joe Aksel, Solutions Architect; Melanie Chagnard, Executive Assistant to CFO & CHRO; Raquel Escarilla, Accounting Clerk; Andrew Sullivan, Technical Business Advisor; Jasmin Rebultan, Chief Financial & Human Resources Officer; Martin Joseph, Chief Executive Officer
Virginia Beach, VA, January 24, 2023 – Hampton Roads Top Workplaces has awarded 360IT PARTNERS a Top Workplaces 2023. This is the sixth time they have been awarded a workplace award from Inside Business.
This award was based solely on employee feedback gathered through a third-party survey administered by Engergage, an employee engagement technology provider.
The confidential survey uniquely measures 15 culture drivers that are critical to the success of any organization, including alignment, execution, and connection, just to name a few.
Martin Joseph, 360IT PARTNERS CEO, believes that it's the kind of person we hire that makes all the difference. "There are plenty of IT professionals out there. We just have a different kind of hiring and onboarding process that ensures that we find IT professionals who have a deep appreciation for the work our clients do. I believe that it is this appreciation that drives our team harder to ensure that our client's IT and cyber security doesn't fail them."
"Earning a Top Workplaces award is a badge of honor for companies, especially because it comes authentically from their employees," said Eric Rubino, Energage CEO. "That's something to be proud of. In today's market, leaders must ensure they allow employees to have a voice and be heard. That's paramount. Top Workplaces do this, and it pays dividends."
For our team, working in IT is more than a career choice. We all live the "tech-life" — which means that we enthusiastically embrace how technology can enhance how we experience life. From efficiency to productivity to fun, we believe that technology can make our world a better place.
For our clients who love using it, too, but just "want it to work," that's where we shine. Our team doesn't use "tech talk" with our clients but we are able to talk to them about their IT infrastructure and software in a non-technical way that helps them understand what needs to be done so that they can get back to their work as soon as possible. 
CONGRATULATIONS TO OUR CLIENTS
We would also like to congratulate our clients who were honored as a Top Workplaces 2023 (in alphabetical order).
Buzz Franchise Brands

Century 21 Nachman Realty

Marathon Consulting 

SteelMaster Buildings

Support Services of Virginia 

The Up Center

United Property Management