Press releases and other announcements from the 360IT Partners
360IT PARTNERS Fundraises for Prostate Cancer In Honor of Client
Virginia Beach, VA, November 22, 2017 – To support prostate cancer awareness and research, the "No Shave" team at 360IT PARTNERS raised $600 during "No Shave November."
"We have a client who is currently fighting prostate cancer. He's a great guy, and our team efforts really hit home this year," said Martin Joseph, president of 360IT PARTNERS.
Raising funds for the Prostate Cancer Foundation, the team received staff donations and 360IT matched the amount raised. In addition to fundraising, each person on the team raised awareness of men's health issues by pledging to not shave their face this November.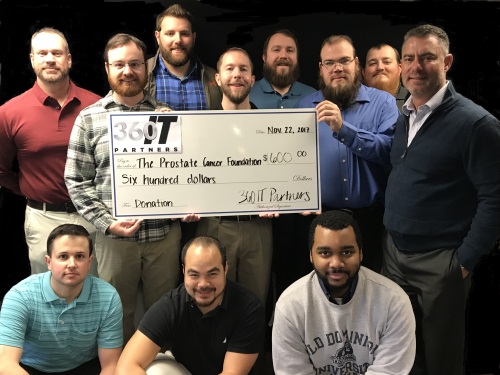 360IT PARTNERS, serving Hampton Roads, Virginia provides IT Department as a Service for small and medium businesses. They service a wide variety of vertical markets including manufacturing, distribution, legal, finance, insurance, health care, and ship building and repair. 360IT has been awarded the Hampton Roads Chamber of Commerce Small Business of the Year and named to the Inc. 5000, the Fantastic 50 and Roaring 20 lists,naming the fastest growing companies. They are a Microsoft Registered Partner and their systems engineers are Microsoft Certified. To learn more about 360IT, a Better Business Bureau accredited business and a member of the Hampton Roads Chamber of Commerce,visit www.360ITPARTNERS.com.