Press releases and other announcements from the 360IT Partners
360IT PARTNERS Donated $3600 in "Computers for Christmas"
Virginia Beach, VA, December 18, 2017 – Through "Computers for Christmas," a program in its first year, 360IT PARTNERS donated $3600 in refurbished and new computer hardware and software to underresourced families in Hampton Roads.
"We created the 'Computers for Christmas' donation program because every person in our company is very passionate about technology. We hope that by providing a reliable computer to a family in need, we might inspire someone in that household to pursue computer science or to use technology to enhance their life," said Martin Joseph, president of 360IT PARTNERS.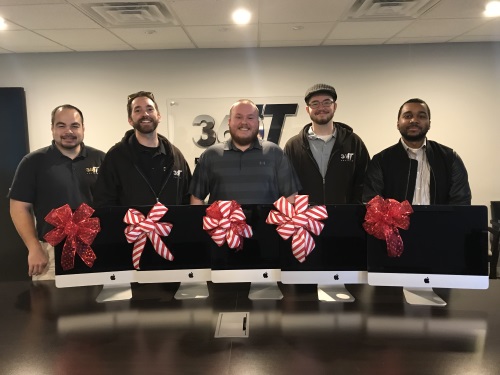 360IT PARTNERS, serving Hampton Roads, Virginia provides IT Department as a Service for small and medium businesses. They service a wide variety of vertical markets including manufacturing, distribution, legal, finance, insurance, health care, and ship building and repair. 360IT has been awarded the Hampton Roads Chamber of Commerce Small Business of the Year and named to the Inc. 5000, the Fantastic 50 and Roaring 20 lists,naming the fastest growing companies. They are a Microsoft Registered Partner and their systems engineers are Microsoft Certified. To learn more about 360IT, a Better Business Bureau accredited business and a member of the Hampton Roads Chamber of Commerce,visit www.360ITPARTNERS.com.